It's not a novel idea constructing a house or accommodation unit from a shipping container: People have done it ever since the shipping container was invented. It is in recent years, however, that this type of construction has gained popularity worldwide and also right here at home.

Owning a home is becoming more difficult with every passing year in Australia, which has nudged us to think outside the box (or inside in this case) to find cheaper building alternatives. Architects are now embracing this new material (the shipping container) and using the technology available to create comfortable living spaces that are affordable for everyone.
Affordable starter homes for young Aussies
Duarte Geraldino in an article published on Aljazeera.com talked about this issue and how it's becoming more difficult for young adults to move out of their parents' homes these days. He attributes this to a combination of high rents and low wages which have left young adults with little option but to stay at home.
It is this growing need for affordable housing, according to Duarte, that has seen architects, developers, and builders turning to cheaper methods of construction.
By using shipping containers for construction, costs can be kept to a minimum providing lower rent living spaces that are customised for twenty-something-year-olds. Concepts such as building basic living quarters that include a kitchen, bathroom, living and dining area, as well as common areas where tenants can hang out provide a low-cost housing solution.
Building these kinds of accommodations using shipping containers helps reduce the cost of construction by as much as half. Because these lowered building costs can be recovered over long periods, rents become very low. And since on average there're about 700,000 empty shipping containers lying idle in the country, this affordable building material is readily available for projects.
But it's not only in large-scale developments where cargo containers are useful. They are also becoming popular in smaller applications such as creating the family and single person dwellings. They also provide a simple way of extending your house as you can install a granny flat in your backyard for some extra accommodation space.
Building a house with shipping containers
What do you need to know?
If you're looking to construct your own uber-cute home using this affordable construction material, then there're several important decisions you'll need to make. To provide some insight into this, we spoke with Seattle-based cargo container connoisseur Sean D. Burke of unboxedhouse.com to share his own experience of building with a shipping container. Because as they say; experience is the best teacher.
Although an architect by profession, Sean joined the International Steel Building Units (ISBU) association online to be able to access 3D models as well as gain more information on shipping container construction. The ISBU website is a great resource for anyone looking to build using shipping containers as it provides a wide range of useful information on how to design and build with containers.
One of the most important decisions you will have to make when building with containers, as Sean pointed out, is whether to use new or used sea containers. For his project, he chose to use a "one-trip" container (a term used to describe a container that has only been used for a single trip) over a much older one. He did this due to health concerns and not for structural integrity or aesthetic reasons as even older containers are pretty robust.
"Older containers have a highly toxic pesticide applied to the plywood deck, whereas newer containers have a much safer chemical," says Sean. Also, newer containers have searchable manifests, which makes it easier to tell if the container has been used to carry any harmful substances before.
Although it might cost a couple of hundred dollars more, the safety benefits you get from buying a newer container are priceless, according to Sean. Luckily, all of Tiger's containers are guaranteed to be toxic chemical free and safe for use as dwellings.
Sean's container house is mounted on a trailer to make it more portable, but even if you don't do so yourself, the sea container is still inherently portable. Make sure to include this in your plans from the beginning if you plan to move around with your house to avoid setbacks he advises.
The last tip Sean had to offer to those looking to build their own home DIY using shipping containers is safety. "The best advice I can give is to take safety precautions very seriously. Not only are there the regular hazards of house construction, but there's also the challenges of connecting dissimilar metals that require more heavy duty tools, increasing the risks of injury" he says.
Although there weren't any mishaps during his project (dubbed Bento Box), he insists that safety measures should be strictly adhered to especially when friends and family volunteer to help.
Differences between a Shipping Container House and a Normal House
Container houses differ from traditional houses in the following ways:
Construction costs. As mentioned earlier, constructing a house using cargo containers is significantly cheaper than using traditional materials.
Construction time. Most of the modifications for transforming shipping containers into houses are usually done in a workshop offsite meaning that it's only the assembling that takes place on site. This reduces construction time significantly. While a normal house can take up to 30 months to build, a shipping container one will take a few days to a couple of weeks to complete.
Building materials. While typical houses use materials such as bricks and timber for outer walls, cargo container homes – as the name indicates – are primarily made with shipping containers.
Building regulations. Regulations used for building with traditional materials are not the same as those for building with shipping containers. They differ greatly depending on your locality, so make sure to check first.
Mobility. Because shipping container houses are an assembly of several containers, they can easily be taken apart and moved to a new location. This is not the case with normal houses.
Assembly. While you can build a normal house using standard construction equipment, you will require specialised equipment to assemble a container house.
Eco-friendliness. Constructing a house using old shipping containers is a way to upcycle an item that would have otherwise gone to waste which helps conserve the environment. Normal houses on the other hand just consume new resources.
Aesthetics. Cargo container houses also differ from normal houses in the way they look. A container house will have an industrial, edgy, modern look while normal houses look more traditional.
Expandability. Container houses are easier to extend than normal houses. All you need to do when you need more space is to buy an additional container, have it modified, and join it to the ones you already have.
Strength. Because of the all-steel construction, container houses are stronger than those made with ordinary materials.
Shipping containers can be easily converted into accommodation for onsite use, for use on long vacations, for emergency situations, or to provide a place for you to live while your house gets renovated.
Tiger containers provide quality cargo containers (both new and used) for building houses. We take care of all the aspects of turning your container into a comfortable dwelling including installing electric wiring, flooring, lighting, windows, doors, air conditioning, plumbing and more.
Read more about our shipping container homes and accommodation >
Get a quote for your container house >
Why Shipping Containers Make Great Houses
A fairly new concept in the world of home construction is to use shipping containers for houses.
These containers are all the same uniform size and constructed out of sturdy steel. Shipping containers offer a quick and sustainable solution to building a home and basic containers can be laid side by side or stacked a top of one another to create a sizeable home for a family.
Shipping Containers for Houses – A Unique Solution
Once in place, the container(s) can be configured in the way that best suits the home plan and after completion, the home is ready for moving in. With traditional homes, a foundation must be built and that requires time to be set up. Once that has been completed, stick frame construction can proceed and then all the basic construction must be inspected and passed by local building authorities.
However, when you are using shipping containers for houses, all you need to do is purchase the components and have them delivered. A cement pad may be sufficient to sit the containers on, or you may want to use some type of concrete blocks as a foundation. The containers can be welded together to keep them in place, but some people prefer to keep them moveable.
The interior of a shipping container is a blank canvas and it is a simple matter to add insulation and wiring to the interior, as well as to have the entire unit plumbed. When people use shipping containers for houses, they save a great deal of time and money. The container is already a self-contained structure; all that needs to be done is to install windows and the interior structures such as walls and doors. Once the building has been completed, it is often not easy to see that the building is actually constructed from shipping containers.
Shipping Containers for Houses – Cost Effective Housing Solution
The cost of purchasing shipping containers for houses is a mere fraction of the cost of building a full-scale home using traditional building materials.
The ready-made solution of a shipping container allows a person to have a home constructed and move in ready in a matter of a few weeks as opposed to long and drawn out timelines that are required to construct a home using traditional methods. Many young couples just starting out have very little disposable income and not much of a credit rating. Container houses are a great option for a first home.
When someone suggests that using shipping containers for houses is a good idea, many people picture a large steel box, but the possibilities to personalise a container and make it a home are simply endless. The structure itself is strong and can withstand all kinds of weather and environmental disasters. It is heavy enough that it will not be easily moved, and the construction of the shipping container makes it completely waterproof. The fire rating of this type of structure makes it one that insurance companies love, so home insurance will definitely be a lot more affordable.
Read about shipping container houses
Shipping Container Homes
In an article published by, Duarte Geraldino talks about how expensive it is for the younger generation to move out of home these days. With the combination of lower wages and higher rents, many young adults are opting to stay home. There is a growing need for affordable housing and some developers and architects are considering shipping containers as their building blocks.
Through the use of shipping containers, the prices of construction can be kept to a minimum, providing for lower rent apartments with living spaces customised to twenty-somethings. The concept is a building with each unit having a private bathroom, kitchen, dining and living space, and a common area where everyone can hang out together in the evenings. Shipping container homes are a low-cost housing option.
Traditional brick buildings with the same amount of units as the conceptualised building using shipping containers would cost twice as much. Lower building costs can be offset over a longer period of time, making for a lower rent price point. With an average of 700,000 empty shipping containers available around the country, there is no shortage of building blocks for new projects.
The concept of living in a shipping container is becoming much more popular with these containers being used for a variety of applications in backyards around the world. Once windows are added to these containers to let more light in, they can feel a lot larger than they are. The addition of light can also reduce electrical costs. Once the interior of the container is finished it is difficult to tell that it was once a shipping container. Building inspectors must approve containers for occupancy, but with a high demand for accommodation, developers are anxious to get these projects completed in a timely fashion.
Read about how we can provide you with a shipping container home
Shipping Container Homes in Australia
Shipping container homes Australia – They have been around for a couple of decades now. During this time, they have evolved from 'boxes' we use for goods storage during long transit to multipurpose devices that can be moulded to suit varying needs. Their low cost and wide availability has only served to accelerate this trend with new ways of using them coming up with every passing day.
Developments in the ICT and Transportation sectors over the last century have condensed the vastness of the world into a single village. Global trade is booming. This boom has brought with it – in surplus – an item that when combined with the human imagination creates limitless utility. The shipping container.
With the soaring cost of real estate, more and more Australians are thinking outside the box for more affordable alternatives. With its numerous advantages over conventional building materials, the shipping container is providing the answer to this problem. The concept of modifying shipping containers into granny flats and fully detached homes is quickly taking root with environmentally conscious home buyers and home buyers seeking to stretch their dollar.
And the cost difference between constructing a traditional home and a shipping container home is significant. A regular three-bedroom 200m2 house would cost you about $400,000 to build in Sydney, a similar structure built using shipping containers would cost between $150,000 to $300,000.
Likewise, a granny flat will cost you well over $100,000 to build in Sydney while a shipping container conversion would cost about half of this. And this includes all additional costs associated with converted container homes such as council fees, transport, and setting the shipping containers on concrete blocks. (Source: http://www.dailytelegraph.com.au/realestate/cheap-as-ships-homes-built-from-shipping-containers-make-waves-with-cost-conscious-buyers/story-fnhytr0n-1227201884611)
In addition to the cost benefits associated with shipping container homes, there are also other benefits that are helping shipping containers gain popularity in the home construction arena.
They include:
1.    Reduced construction times. Shipping container homes are manufactured in a factory which makes production quick and efficient. Once the shell has been completed, all that remains is installation on your property and addition of other add-ons such as roofs and verandas. Your home should be ready in just a couple of weeks.
2.    Sustainability. People are starting to understand and appreciate the effect their lifestyles have on the environment. It is for this reason that more people are switching to a more sustainable way of living. Using shipping containers for home construction is helping in the re-use of these otherwise waste products. This is because shipping containers are rarely shipped back to the original exporter which results in a major disposal problem.
3.    Durability. Even with their lower construction cost, shipping container homes will last as long as traditionally built homes. Shipping containers are renowned for their tough construction which will remain even after the container has been transformed into a home.
4.    Good "temporary" structures. Shipping containers walk the line between permanent structures and temporary structures. If for any reason you are not allowed to construct permanent buildings on your property, a shipping container home offers a great solution as it can be moved when required without any damage.
Although relatively new to Australia, the concept of building homes from shipping containers is widespread in other countries such as the U.S.A and Canada. And with all the benefits these homes offer, you can only expect this trend to continue growing both in Australia and the world over.
A Shipping Container House. Really?
Yes, really! And they are becoming more popular as more people discover the benefits of using this "in excess" item to construct houses.
Once considered undesirable housing units for people who couldn't afford the more traditional brick and mortar house, cargo container houses have become the hot new trend for, well, just about anyone. From beachfront getaways to sprawling homes on the open range, shipping containers are being transformed into beautiful modern homes for every kind of need.
See some great pictures of cargo container homes: http://www.popularmechanics.com/home/how-to/g172/shipping-container-homes-460309/
Shipping container homes are particularly popular with eco-conscious people, thanks to their environmental benefits – but these aren't the only benefits of building your home using cargo containers.
The advantages of building a house using shipping containers
1.    Durability. Shipping containers are built to withstand long and rough journeys over land and sea without damaging the merchandise inside. They are weatherproof and can take a knock or two without significant damage. This makes them ideal materials for home construction. Because of they're all metal build, shipping containers are also resistant to fire, termites and mould.
2.    It's easy to create design plans. Thanks to their modular nature and ability to be stacked up to 12 high, shipping containers home designs are easy to formulate and implement. It's so easy that you can create your own design without requiring the help of an architect.
3.    Reduced construction time. With shipping container homes, the more appropriate term to use is "assemble" instead of "build". This is because most of the work is done offsite in a workshop and then the final unit is assembled at the location from the already modified shipping containers – like arranging Lego blocks.
4.    Mobility. Cargo container homes are as easy to take apart as they are to put together. If you need to relocate, all you need to do is take apart the various units making up the house, have them transported to the new location and assemble them again to create your old house at a new location.
5.    Easy modification. If you ever require to add an extra room to your home, you can just attach a new module to it. It's that simple!
Let Tiger Containers help you transform your dream of owning a home into a reality. We provide high quality new and second-hand shipping containers and offer modification services to make the container more suitable for your needs.
Costs To Build A Shipping Container Home
It's many people's dream to own a home at some point in their life. But with the ever-increasing costs of building a house in Australia, this dream is quickly becoming unattainable.
According to the Australian Bureau of Statistics, house prices have been on a steady incline since the late 80's averaging an increase of about 6.8% each year. The Bureau estimated the cost of building a new house to be $236,000 in 2008 from a low of $65,000 back in 1987. Now, some of this rise in cost can be attributed to the increasing size of houses being built but most of it is as a result of other market forces, other than consumer preference.
(Source: http://www.abs.gov.au/ausstats/abs@.nsf/featurearticlesbytitle/2609898B87F95519CA25792D000E2DF5?OpenDocument)
It's this housing problem that has forced people to think outside of the box regarding building materials for constructing durable homes, that won't leave them in lifelong debt. Welcome: shipping container homes.
Their original purpose was to securely transport cargo across rough seas and miles of road, but with their increasing popularity a new problem arose; disposal. Shipping containers were designed to reduce loading and off-loading times at ports by consolidating several small items into one big regular shaped package. This increased efficiency at terminals greatly reducing shipping costs. But over the years shipping containers began piling up at ports and yards which led people to a new question: How do we reuse these idle resources? "Construction was the answer.
Using cargo containers as the primary building material for structures is nothing new. They have long been used to construct offices, pop-up shops, restaurants and now… now you can live in them. The idea of constructing houses using shipping containers, although in its infancy here in Australia, has gained popularity both in Europe and America where people are using them for construction because of their wide availability, eco-friendliness and low cost.
How much does it cost to build a home using shipping containers?
Shipping containers offer a viable solution for affordable housing, enabling the average person to achieve their goal of owning a home. The Daily Telegraph in an article estimated that a 200sqm modestly fitted three-bedroom shipping container home in Sydney could cost as low as $150,000 compared to $400,000 for a regular home. The cost of a granny flat in the same location could be cut by more than half to about $42,000 from a price of about $100,000.
(Source: http://www.dailytelegraph.com.au/realestate/cheap-as-ships-homes-built-from-shipping-containers-make-waves-with-cost-conscious-buyers/story-fnhytr0n-1227201884611)
Other than being a cheap alternative to regular building materials, shipping containers are gaining popularity in home construction because:
1.    They offer an environmentally friendly solution. By using shipping containers to construct your home, you are using a resource that would have otherwise gone to waste. This helps preserve the environment by fully utilising available resources.
2.    They take less time to construct. Constructing a cargo container home takes less time as most modifications are made offsite. Only assembly and installation of a few fixtures takes place on-site.
3.    They have a smaller footprint. This means they are lower maintenance, run on less energy and are more flexible in where they can be built, to reduce waste compared to regular homes.
Tiger Containers provides you with quality affordable new and used shipping containers and helps you make the necessary modifications so that you can craft your dream home without breaking the bank.
How To Spice Up Your Shipping Container Home
A shelter is one of the basic needs, which makes owning a home one of the most important things for the majority of us. The cost of buying/constructing a home, however, makes this dream quite hard to realise.
That is why people the world over are looking for cheaper housing alternatives. And shipping containers are proving very useful in this aspect.
Shipping containers are a perfect option for affordable home construction due to their versatility. They are easy to stack and connect which makes them ideal for constructing buildings in a variety of shapes and sizes. The fact that they are also an environmentally friendly alternative makes them even more attractive.
If you are looking to build your home from shipping containers, just welding them together and cutting out doors and windows will not make for a comfortable home. A little more effort and creativity is required to transform these steel boxes into a comfortable home that you will enjoy living in.
Tips for spicing up your container home
Here are five easy and affordable things you can do to spruce up your shipping container home:
1. Put some thought into the design
To make your cargo container home the best it can be, you'll need to start from the beginning. Just like regular houses, shipping container homes also require some designing to make them more appealing and practical. There are two ways you can go about this: hire a professional architect or do it yourself.
If you do choose to follow the do it yourself route, do some research. Check out existing shipping container homes to get an idea of what you would like your house to look like. Keep in mind that local building codes and environmental factors will also play a significant part in the overall design, so do some digging on them too.
2. Build for comfort
Once you are through with the design stage, you can begin construction. For comfort at all times of the year, it is of paramount importance that you install insulation and adequate ventilation to the house as well as double glazed windows – if air conditioning is to be used. If the area you are building in is particularly sunny, consider constructing the house in a shaded area for cooler temperatures.
3. Install appropriate flooring
Choose flooring material that works for your environment. For dusty places, use vinyl and wooden floors instead of carpets. They are easy to clean and will not absorb all the dust in the air like the fabric in a carpet would.
4. Decorate the outside of the house
A shipping container is quite plain and unappealing without some decoration. A simple way to solve this problem would be to paint the outside of the house. Adding other materials to the outer walls such as wooden shingles could also do wonders. Attaching a sunshade will not only add to the aesthetic but also help keep the house cool. You can use solar panels for this instead of regular roofing material to get some free power out of it too.
5. Landscape the grounds
Planting trees and bushes around the house will make your property look gorgeous while keeping your house protected from the harsh sun.
Need a shipping container home? Contact us today.
Things You Should Know before Building a Shipping Container Home
After careful deliberation and looking at many beautiful examples of homes made of cargo shipping containers, you've finally decided on making one for yourself. It sounds simple enough, and the advantages of having one definitely make it a worthwhile decision.
But before you even get started there are some things you should know, things that many aspiring homeowners tend to forget or disregard due to their unfamiliarity with using containers for building homes.
Selecting and Purchasing the Correct Shipping Containers
First off, you need to know exactly what type of steel shipping containers you will need. This task may seem simple but can be confusing once you consider the many shipping container sizes and variants available nowadays. The answer to the most basic question of 'how much are shipping containers?', also depends greatly on your choice of container.
You also have to consider where to buy shipping containers and how much you're willing to spend on them. Sure, you can always go for really cheap shipping containers, but these may be old, worn and dented in places. While shipping containers, in general, are durable due to their material and build, their appearance and level of wear and tear will matter if you're planning to turn them into a home. Excessive wear and tear could mean added costs to make the container look like new. Some older containers while cheaper can also have toxic chemicals applied to them. It's best then to purchase newer ones and from a reliable source like Tiger Containers.
Regulations and Planning
Another important aspect that you need to consider: building regulations. In many areas and localities building regulations for container homes and structures are entirely different from those for traditional homes. Building with shipping containers can have a different set of hazards, as it involves connecting dissimilar metals using heavy duty tools. There may also be hazards with regard to your desired size, design and location for your container home.
For these reasons building regulations for container homes can be restricting at times, so make sure you know them before making any firm decisions about design and construction.
Working with the Right Contractor
Shipping container homes may have gained some popularity in recent years, but that doesn't mean that every contractor has worked with shipping containers or knows how to properly create a home out of one. It's important that you work with a contractor or company that has successfully built container homes or structures. Not only will they have the knowledge and experience to help you fully achieve your dream container home, they'll already be aware of the specific regulations and best practices involved.
Tiger Containers is one such company, having accumulated years of knowledge and experience in constructing shipping container homes. We can provide you with strong, safe containers and all other aspects to make your container your brand new, comfortable home. That includes installing electric wiring, flooring, lighting, plumbing and more. Get in touch with Tiger Containers today to know more or get a free quote.
Open to Expansions? Build with a Shipping Container!
Constructing a building or house can be costly—and it can cost even more when you decide to expand down the line.
You'd have another set of materials and labour to pay for, and you'd have to stay somewhere else or stop operations while the construction is going on.
Instead of having to deal with all that, however, why not opt for modified shipping containers instead?
Built for Expansion
That's right, custom shipping containers can be the perfect answer to your building expansion needs. With shipping container buildings, expansion is as easy as adding another container either upward or outward. You won't have to spend as much as you would when building another structure from the ground up, and you wouldn't have to move or stop operations for long since container units can be modified off-site.
Indeed, shipping containers are great options for buildings when you plan on expanding later on. This can be great for businesses just starting out but looking to grow in the future. Shipping containers have already proven to be wonderful options for pop-up stores, outdoor cafés and food stalls, but they can also be excellent choices as business headquarters. As your business and budget grow, you simply need to add another container or two to your existing building to give your growing business the space it needs.
Not Just for Businesses
But shipping containers are not just ideal building options for growing businesses. They're perfect for growing families too.
These days there are many households that have several different generations all living under one roof. To give older children or ageing parents their own space, independence and privacy without having to leave the property, a container space is a practical choice. It's also a great option for small families who are expecting new additions and therefore need more space.
Not into the look of shipping containers? Not a problem. Designs for shipping container homes today can be as stylish and modern as regular homes– you'll find it hard to believe they're made of containers at all! All it takes is some shipping container modifications and the right design and floor plan.
Pick a Reliable Partner
If expansion is where you're headed, you really can't go wrong with a modified shipping container home or building. However, you need to make sure that you partner with an experienced and reliable container company, otherwise, you run the risk of ending up with a shabby container space. At Tiger Containers, we specialise in customising containers and turning them into your ideal living and working spaces. We take care of everything: electricity, flooring, doorways, windows, lighting and temperature control so you can live and work comfortably in your new container space.
Give us a call today to know more about our modified shipping containers for sale and our container customisation services.
Advantages of building your home with shipping containers
With shipping container homes becoming more popular than ever, a growing number of people are realising the advantages they offer in comparison to traditional housing. In this blog post, we'll take a look at some of these advantages, so you can decide if a shipping container home is right for you.
Affordable
Across the board, there's no doubt that the greatest advantage of shipping container homes in the eyes of most people is the low price compared to building or buying a house. In a time where the cost of homes is exorbitantly high, the cheaper and simpler option of container homes present an alternative for people wanting to step onto the property ladder. The appeal is also high for those looking for a bargain on a second home, or wanting to get away from the hustle and bustle of the city – as shipping container homes work best outside busy city areas.
Eco-friendly
The second most common answer people give when asked why they would want to live in a shipping container home is due to their eco-friendliness. More and more people are becoming conscious of their own impact on the environment, and are starting to choose housing options that are environmentally friendly. A standard, 40-foot shipping container is made up of around 3500 kilograms of steel, which is effectively recycled through its use as housing. Furthermore, container homes don't require any other building materials, making them even friendlier to the environment.
Portable
Since a shipping container's primary purpose is for cargo or freight, a shipping container home is designed to be moved around easily. For many shipping container homeowners, this is a huge advantage of the setup as, with such a portable home, they can essentially move anywhere without ever having to find another place to live. Of course, to keep your home easily transportable, it's crucial you maintain the structural integrity of the container itself. Apart from that, you can customise to your heart's content and still be able to move your container home anywhere in the world!
Easy and fast to build
Another advantage of shipping container homes is the fact that they can be assembled quickly, especially when compared to the length of time required for most home builds. On average, it'll take you about two months to go from first putting in the order for a shipping container home design to seeing your container home finished in your chosen location. This is because builders are able to build the framework and structure for the home before the shipping containers arrive, so they can be slotted into place quickly and easily.
If you're one of those special few who have realised a shipping container home is right for you, take a look at our shipping containers for sale online, and contact Tiger Containers now if you want to take the next step on your journey to getting your own unique, easily transportable container home.
Examples of shipping container homes
The Jaora Street Shipping Container Home
The Beach Box
Containers of Hope
Studio H: T's Shipping Container House
LHVH Architekten's Containerlove
The 2+ Weekend Home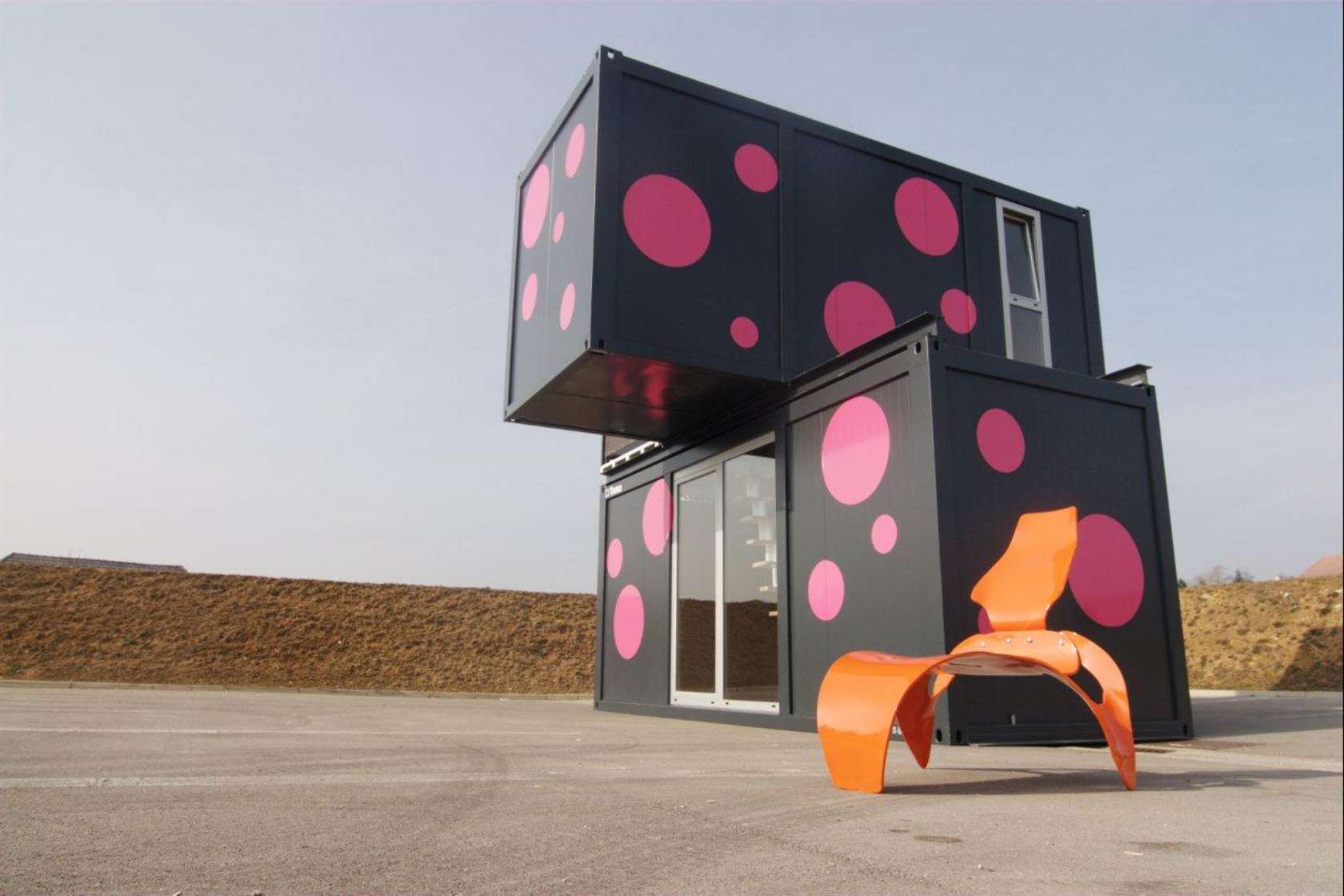 The Casa Incubo
Adam Kalkin's Adriance house
Manifesto House
Redondo Beach House
Caterpillar house
ZieglerBuild's Shipping Container home in Graceville
Golany Architects' Two-Tree House
CG Architects' Crossbox House.