Shipping containers are being used for a lot of innovative structures these days. They are affordable, simple to modify and easy to move.  Here are a few amazing buildings that have been created with modified shipping containers:
With a few quick shipping container modifications, several containers are moved together and attached, then developed into an incredible and comfortable residence with all of the modern conveniences. Award-winning architects rise to the challenge to design and construct residential homes that anyone would love to own. www.freshome.com/2014/04/05/striking-modern-residence-built-31-containers-australia
With over 125 shipping containers already being used for this purpose, prisons are turning to these self-contained units to house prisoners in Australia. Due to their affordability and portability, shipping containers are the perfect solution for the government to stay on budget and manage prison numbers. www.abc.net.au/news/2014-04-09/more-shipping-container-cells-for-victorian-prisons/5376832

An award-winning beach house was constructed and won the Gabriel Poole Award for the building of the year, 2014. The "Beach Box" was recognized for its cost-effective interaction with the beach culture and playful use of shipping containers. This building was one of 22 entrants and was chosen because of its playful use of modified shipping containers and simple yet appropriate interiors. www.architectureanddesign.com.au/news/shipping-container-house-wins-major-architecture-a
The Mill Junction Project in Johannesburg, South Africa is a housing complex that provides accommodation for hundreds of university students. Several abandoned grain silos have been topped with four separate floors of modified shipping containers. The majority of the complex and apartments are contained inside of the silos. Windows and doors have been cut in the silos and the whole building has energy efficient lighting features, free Wi-Fi, communal kitchens, areas to study, recreational rooms and a gym. www.architectureanddesign.com.au/news/shipping-containers-stacked-on-top-of-silos-create
Modified shipping containers are versatile and easy to modify. Each one is like a blank canvas that is waiting for a creative architect to transform into suitable accommodations for any situation. These are just a few amazing examples of how shipping container modifications are turning simple and ordinary metal containers into homes that most people would not guess the origin of.
If you have a project in mind and need some assistance with modifying a shipping container contact us today.
Customise your shipping container >
Check out this great before and after picture of a renovated cargo container that demonstrates some of the work we do:
Shipping container homes. Shipping containers can have doors and windows cut into them. They can be lifted and stacked or turned on end. These versatile building blocks are the perfect solution for those who want to have a residential building but cannot afford to spend tens of thousands of dollars on building a home. The other great feature of shipping container homes is that they can be installed quickly without the need to wait for structures to be built on the spot.
Take a look at some of the homes shown on this blog. There are regular, one container homes, and other homes that use several shipping containers to create a home with multiple levels.
Another interesting use for shipping container conversions is for eye-catching office space. Today's innovative businesses want to make a statement, not only about being progressive and forward-thinking but also about being eco-friendly and making use of pre-existing materials in order to reduce costs and waste. This interesting office building in Tokyo, Japan was designed by some forward-thinking architects who took two shipping containers and converted them into a modern office space that looks like nothing much on the outside:
Affordable Family Housing
It costs a lot of money to build a suitable home for a growing family these days. Shipping containers offer a great solution to the housing shortage and any number of containers can be used and fit together in just about any configuration.
Used shipping containers have a lot of appeal and capture the imagination of designers and home owners alike. What you are looking at is a blank canvas that can be used to create anything that you want to create, personalise as you wish and make into your home. The cost is far below that of standard building materials, and the containers can be placed with the use of a crane, onsite.
Shipping containers open up a whole new world because they are completely constructed all in one piece and do not need to be put together. The only thing left to do is place windows and doors in appropriate places in the containers. Once the containers are in place, the inside of them can be wired and decorated to the personal tastes of the home owners. Not much work is required for the container to be transformed to move in ready condition.
Here are some local applications:
Shipping container homes. We have done a couple of posts in regard to this particular use of the shipping container. It is one of the areas that containers are increasingly being used due to their low cost.
Image source: en.wikipedia.org
2. Offices. Cargo containers have long been converted into offices and especially for on-site use. They are easy to construct and mobile.
Image source: treehugger.com
3. Emergency hospitals. These are like ambulances but more self-contained. They can be moved to disaster struck areas as part of the relief efforts.
Image source: marineinsight.com
4. Portable toilets. This is one of the more common uses of shipping containers as they offer hygienic sanitation facilities in remote locations.
Image source: jackson-group.co.uk
5. Vacation homes. Cargo containers offer an inexpensive yet elegant solution for vacation accommodation.
Image source: smallhousebliss.com
6. Bars. Intermodal shipping containers are being modified to create beautiful bars with an outdoor ambiance.
Image source: notcot.com
7. Student housing facilities. With the ever-increasing number of students, learning institutions such as universities are struggling to cope with the high demand for accommodation. Shipping containers are providing a cheap solution.
Image source: transportblog.co.nz
8. Swimming pools. Cargo containers make for excellent pools without the need to alter their original depth or length.
Image source: seattletimes.com
9. Campers. Modified shipping containers are gaining popularity with the camping crowd as these structures are able to offer high levels of comfort and security in the wilderness.
Image source: ww2.hdnux.com/photos/14/64/41/3360833/3/628×471.jpg
10. Indoor gardens/ nurseries. In yet another innovative trend, shipping containers are being converted into farms and nurseries.
Image source: singularityhub.com
Customise your shipping container >
Cafes. Cargo containers are being used to create chic cafes all over the world.
Children's centres. Shipping containers are being used to create playing spaces for kids like this one in Melbourne.
Image source: e-architect.co.uk
Hotels. Cargo containers are finding an alternative niche as the base structures for hotel construction in many parts of the world.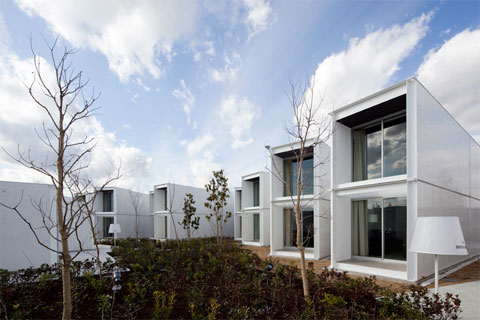 Image source: busyboo.com
Cold storage. Cargo containers are being modified to provide refrigerated/freezer storage for perishable goods.
Image source: dainton.com
Temporary stores. Once in a while you'll need extra storage space. Shipping containers offer the best solution.
Image source: tigercontainers.com
Customise your shipping container >
Dangerous goods storage. Dangerous goods that could cause harm to the environment or animals need to be stored safely. Shipping containers offer a great solution.
Image source: tigercontainers.com
Stores. Shipping containers are being used by entrepreneurs all over the world to create beautiful, modern stores.
Image source: kristenobaid.wordpress.com
Schools. Constructing traditional buildings for schools can be quite expensive. Shipping containers are being used as a cheap alternative to classroom construction.
Image source: designboom.com
Customise your shipping container >
Shipping Containers Modified For Fire Training
Food market in North Vancouver
Foodies from Vancouver have a reason to get excited as a new project to construct a unique marketplace from shipping containers is underway. The market – designed to be an open-air food market – will comprise 23 shipping containers set on a 100,000-square-foot waterfront lot.
San Diego Shipping Container Home
We've covered quite a few shipping container homes in the past, but with new designs and concepts being developed every day, we are bound to stumble upon new ones that catch our attention. This luxury home in San Diego, CA uses recycled shipping containers for its construction, but you can't tell at a glance.
The 1,920-square-foot luxurious house is covered by eye-catching stained pine throughout its exterior to give it that traditional look people are more accustomed to. The house has been listed for sale for a whopping US$799,000. This once again proves that shipping containers can be used for more than basic shelters.