Shipping containers by far outlive their cargo carrying usefulness. A typical container will be retired in about 5 years after which it's abandoned and left to lie idle in a shipyard for years.
This is the main reason why shipping container renovation has become increasingly popular around the world.

But in recent times, these strong boxes have started gaining the recognition they deserve for their durability, light weight, adaptability, ease of stacking and low cost. It is this realisation that is fuelling the container recycling trend.
Over the past few years, we have seen containers modified into homes, stores and much more.
The possibilities seem endless with the only limitation being our imagination.
To illustrate just how much shipping containers are shaping our everyday lives, we have compiled a list of 20 uses modified shipping containers have been put into.
1. Shipping container homes. We have done a couple of posts in regard to this particular use of the shipping container. It is one of the areas that containers are increasingly being used due to their low cost.
Image source: en.wikipedia.org
2. Offices. Cargo containers have long been converted into offices and especially for on-site use. They are easy to construct and mobile.
Image source: treehugger.com
3. Emergency hospitals. These are like ambulances but more self-contained. They can be moved to disaster struck areas as part of the relief efforts.
Image source: marineinsight.com
4. Portable toilets. This is one of the more common uses of shipping containers as they offer hygienic sanitation facilities in remote locations.
Image source: jackson-group.co.uk
5. Vacation homes. Cargo containers offer an inexpensive yet elegant solution for vacation accommodation.
Image source: smallhousebliss.com
6. Bars. Intermodal shipping containers are being modified to create beautiful bars with an outdoor ambience.
Image source: notcot.com
7. Student housing facilities. With the ever increasing number of students, learning institutions such as universities are struggling to cope with the high demand for accommodation. Shipping containers are providing a cheap solution.
Image source: transportblog.co.nz
8. Swimming pools. Cargo containers make for excellent pools without the need to alter their original depth or length.
Image source: seattletimes.com
9. Campers. Modified shipping containers are gaining popularity with the camping crowd as these structures are able to offer high levels of comfort and security in the wilderness.
Image source: ww2.hdnux.com/photos/14/64/41/3360833/3/628×471.jpg
10. Indoor gardens/ nurseries. In yet another innovative trend, shipping containers are being converted into farms and nurseries.
Image source: singularityhub.com
11. Car parks and garages. The space constraints of the modern world are making us think outside the box to create more space in our lives. It is these constraints that have seen the ingenious use of shipping containers as garages and car parks.
Image source: giantcontainersales.com
12. Cafes. Cargo containers are being used to create chic cafes all over the world.
Image source: smithsonianmag.com
13. Children's centres. Shipping containers are being used to create playing spaces for kids like this one in Melbourne.
Image source: e-architect.co.uk
14. Hotels. Cargo containers are finding an alternative niche as the base structures for hotel construction in many parts of the world.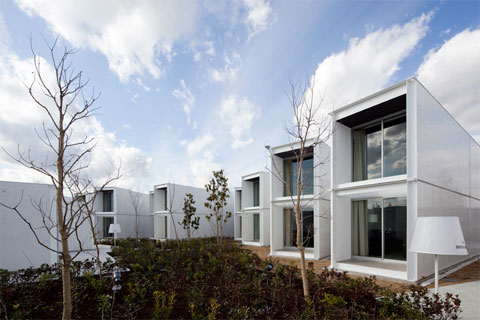 Image source: busyboo.com
15. Workshops. Limited space at home for work has led to the transformation of intermodal shipping containers into alternative workplaces.
Image source: smallutions.com
16. Cold storage. Cargo containers are being modified to provide refrigerated/freezer storage for perishable goods.
Image source: dainton.com
17. Temporary stores. Once in a while you'll need extra storage space. Shipping containers offer the best solution.
Image source: tigercontainers.com
18. Dangerous goods storage. Dangerous goods that could cause harm to the environment or animals need to be stored safely. Shipping containers offer a great solution.
Image source: tigercontainers.com
19. Stores. Shipping containers are being used by entrepreneurs all over the world to create beautiful, modern stores.
Image source: kristenobaid.wordpress.com
20. Schools. Constructing traditional buildings for schools can be quite expensive. Shipping containers are being used as a cheap alternative to classroom construction.
Image source: designboom.com
How can we modify a shipping container to meet your needs? Ask now >